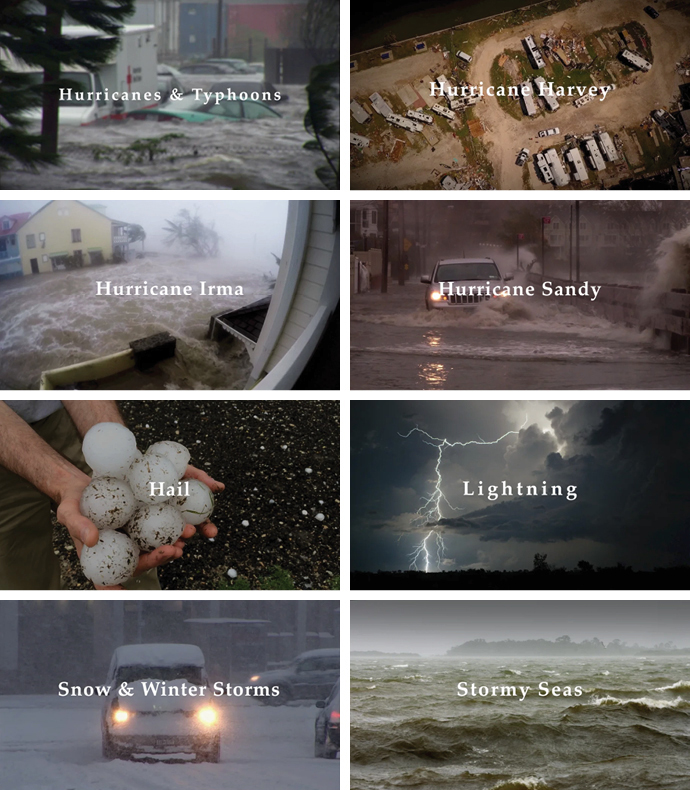 Profile
Founded in 1993 by cinematographer Martin Lisius, StormStock has become the gold standard for premium weather content worldwide. It's what producers select when they want their projects to rise above the rest.

"We push the envelope every day to find unique ways to see the weather," Lisius said. "We challenge the status quo, and we think differently because we know our clients demand something extraordinary."

StormStock features hurricanes, lightning, tornadoes, storm clouds, blizzards, stormy seas, and climate change captured on HD, 4K, Super 35 and 16K.

Links to site

1) Hurricans & Typhones
2) Hurricane Harvey
3) Hurricane Irma
4) Hurrican Sandy
5) Hail
6) Lightning
7) Snow & Winter Storms
8) Stormy Seas


Specialities
Weather, Climate, Natural Disasters, Hurricanes (Katrina, Harvey, Irma, Sandy and more), Typhoons, Tornadoes, Lightning, Stormy Skies, Thunderstorms, Flooding, Storm Surge, Blizzards, Snow, Wind, Rain, Volcanoes, Weather Radar and Satellite.

Client List
BBC, NBC, CBS, Fox, "The Giver," "The Avengers," "Lucy," Disney's "Cinderella," Google, Facebook.

StormStock

Prairie Picturesí StormStock
P.O. Box 122020
Arlington
Texas 76012
USA
Tel: 817-276-9500
Contact name:
Martin Lisius




All clips appearing on this website are protected by UK and international copyright laws. You may NOT reproduce them in any way, for any purpose whatsoever, without the explicit permission of the respective copyright holders.






SPECIALITIES


TO FIND THE SPECIALITIES OF THESE OUTSTANDING FOOTAGE LIBRARIES

CLICK HERE

AND GO TO THE LIST OF CATEGORIES