Bridgeman Footage - A Chinese Century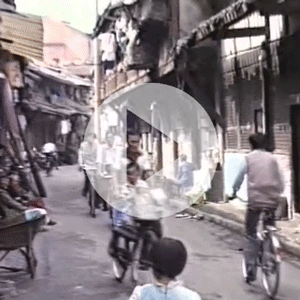 To celebrate the art specialist's new collection of 1980s views from Beijing, Tibet, and the Trans-Siberia railway - discover a century of footage from China, featuring war, independence, travel, food and spirituality.

This new collection gives us a view of the way that China has developed over the years, becoming the powerhouse it is today. See more here.

Website: Bridgeman Images

Next >

---
David Peck Credited on New Bee Gees Documentary
The founder of Reelin' In The Years Productions is Executive Producer of ' How Can You Mend A Broken Heart' the new documentary, directed by Frank Marshall, about the legendary Bee Gees.


StormStock Provides Weather Content for 2021 Movie
The post-production team for the 2021 film "13 Minutes" recently acquired 35mm-shot footage from Prairie Pictures' StormStock for their disaster genre movie.


Total Solar Eclipse from Space
Yesterday's total Solar Eclipse was the only total solar eclipse of the year in fascinating NOAA footage.


Hellacious Hail Footage from StormStock
Hail is frozen precipitation in the form of lumps of ice, or "stones" created when rain is pushed above the freezing level by a thunderstorm's updraft. Hail stones grow larger with subsequent passes until they become too heavy to be supported by the updraft and fall to earth. It's something the cinematographers for Prairie Pictures' StormStock know well.


Fireball Engulfs SpaceX's Starship SN8 Rocket
SpaceX's Starship SN8 rocket has exploded during touchdown after a six-and-a-half-minute test flight. The flight was the highest yet for the rocket ship Elon Musk hopes will ferry humans to Mars, with the prototype shooting for an altitude of eight miles.


Image Source Launches www.footage.co.uk
Image Source, a leading independent premium stock licensing agency just announced the launch of its stock video site for footage – www.footage.co.uk addressing the growing demand for premium stock video across the world.


Scenic Chicago in 4K UHD from WPA
Winter has arrived in Chicago, so all the more reason for WPA Film Library to share this scenic view of Chicago with the Chicago River shot in 4K UHD.


FOCAL International Awards 2021 - Submissions Open
The Awards celebrate the very best use of archival footage across the creative and cultural industries. From cinematic features to the use of footage in innovative ways; there is no doubting the immediacy and power that footage can bring, which this unique award competition recognises.


Villon Films Archive Footage from Bridgeman
The art specialist library are now representing the Villon Films Archive. With a strong focus on socio-political documentary, topics covered include government, history, ecology and the apartheid years.


Play NaturePL's New "Snowreel"
As winter approaches, the nature specialist's latest showreel – or should it be snowreel? – features some of their great wintery footage.


Global ImageWorks Offers 10% Off
The classic TV and film specialist library is offering a 10% discount off for both film and stills projects.


Latest from Huntley Film Archives
This month the historic film specialists been working on some lovely footage for some forthcoming TV and feature documentaries.


Protest Footage from Hong Kong, Black Lives Matter, Nigeria and More Available Now at AFP
This year, protests have been rocking the globe. AFP has been on the ground covering these stories with a different angle.


Explore Over 6,000 Species with NatureFootage
At a time when biodiversity is in unprecedented decline, NatureFootage continues to build a comprehensive collection of curated videos of the world's wildlife to inspire conservation in programming and a passion for nature.


Historic Films Features Legendary Performers Red Skelton and Josephine Baker
The historic specialist footage library is showing their latest and very special archive material of two legendary artists: the comedian Red Skelton and singer Josephine Baker - "The Black Venus".


Sony Pictures Stock Footage Launches New Commercial Footage Site using Big Easy |one App
The big easy | one team is now hosting the new Sony Pictures Stock Footage website on the big easy | one media asset management platform.


STALKR Creates US Presidential Campaign Film
Creative agency STALKR were heavily involved in the Biden-Harris US Presidential campaign. Their content was part of this moving piece centred on bringing Americans back together and rejecting the divisiveness of the previous administration.


The Incredible World of Cinerama
The wonderful world of Cinerama travelled all over the planet in the 1950s and captured the beauty and intrigue of the natural world.


NHNZ Launches Film Fixing Company
NHNZ announces the launch of Fix-Film-Cut NZ – a spin-off company which offers complete production support, from location fixing through to post-production.