Election 2020 - America's Historic Vote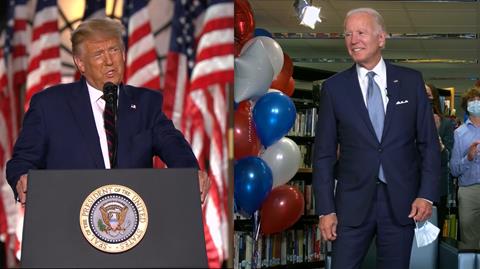 A vital election set against the backdrop of a global pandemic, nationwide economic crisis, and violent ideological tensions – leverage exclusive CNN footage to tell the story of 2020's momentous vote.

Browse US Election 2020 footage.

CNN Collection has been known for its impressive library of footage from the most iconic news events, rare interviews, and hard-hitting live reports. Now storytellers and content creators can turn to that same library for one-of-a-kind images from the world leader in news. Check out the website.

Website: CNN Collection

Next >

---
Global ImageWorks Footage and Stills of Rock Stars
The New York-based historical archive is famed for its excellent collections of material of the music scene, particularly the 60's, 70's and 80's, in both motion and stills.


StormStock Image of the Month – Hurricane Harvey
Hurricane Harvey is tied with Katrina as the costliest natural disaster in US history. The severe weather specialist's team captured visuals from the ground, air and water on 4K video.


You Can't Stop STALKR
Wieden+Kennedy's "You Can't Stop Us" for Nike is a cinematic manifesto for unity at a time when cultural and physical divisions dominate the globe, sourced from thousands of clips to form 36 magical split screens.


WPA Latest News
WPA, the historical footage specialist collection, is showcasing a spread of content that reflects on the USA of today.


INA Marks the 50th Anniversary of Allende's Election
Salvador Allende became the 28th president of Chile in 1970. His government was responsible for many benefits for the population, but was overthrown in a Western-backed coup in 1973. INA has assembled a footage collection of the Chilean president.


AFP Delivers News with a Human Perspective
AFP delivers news footage with a global, human perspective. Browse a robust database of global news clips for your documentaries, movies and more from one of the world's most experienced news agencies: Agence France-Presse.


DPX Files – Video Format to Improve Old Footage
The Producers Library is using a new format called DPX which is capable of great improvement when bringing old telecine film material into modern productions.


Premium Footage Marketplace STALKRFILM joins StockFootage
New arrival on the StockFootageOnline hub is highly-curated, rights-managed, and exclusive content provider STALKRFILM. This premium footage library and production company joins the best marketplace for specialist footage suppliers in the industry.


Dine With Huntley Film Archives
The history specialist's second Tell a Story With Archive film showcases a superb soupcon of their wonderful collection of material featuring food and drink – from farming to fishing, preparation in the kitchen to wining and dining – they tell the story of how food gets on our plates. Tuck in!


StormStock Image of the Month - Hurricane Katrina
This month marks the 15th anniversary of Hurricane Katrina, and she remains the most impactful storm in US history. Severe weather specialists StormStock were there to shoot rare and exclusive footage of her arrival in the USA on HD and Super 35mm.


9-11 The Horror and the Humanity
GIW looks back nearly 20 years to the events that changed the world on September 11th, 2001. Their 9/11 footage and photo collection was captured by videographers with unrestricted access.


Killer on the Loose from Screenocean
The archive licencing collection has just released a short clip from the terrible Spanish Flu Pandemic of 1918 which is interesting in how similar the outbreak is to today's COVID-19.


Framepool Moves to Nimia Platform
Filmmakers who were working with Framepool have now got the opportunity to opt-in to the Nimia platform, with a new contributor's agreement.


STALKR Sources Footage for Verizon Advertising
Production, licencing and search agency STALKR created a distinctive advertising campaign using footage of digital communication for Verizon.


Global ImageWorks - 10% Off Your Next Production or Project
GIW are offering a discount off their footage and stills collections. They cover a wealth of subjects including travel, music, and classic TV show archives.


StormStock is Shooting 16K Video
Founder and lead cinematographer of the storms and severe weathers specialist StormStock, Martin Lisius has been shooting in 16K, on his own custom built rig.


STALKR Making Connections with Bumble
Production, licencing and search agency STALKR created an advertising campaign using widely-sourced footage for dating site Bumble.


NBC News Archives Features Kennedy v. Nixon
This year marks the 60th anniversary of the first televised presidential debate between John F. Kennedy and Richard Nixon, a TV landmark available from NBC News Archives.


RITY Nominated For Footage Library Of The Year
Reelin' In The Years Productions is nominated for the prestigious FOCAL International "Footage Library of the Year" award. The ceremony is going to be virtual this year, but it is still an honour for productions and libraries to be nominated.