StormStock is Shooting 16K Video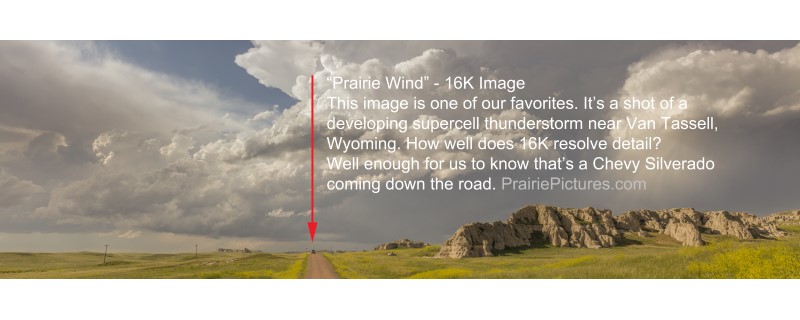 Founder and lead cinematographer of the storms and severe weathers specialist StormStock, Martin Lisius has been shooting in 16K, on his own custom built rig.

Martin says, "I began shooting 16K video content in 2018 back when 16K cameras didn't exist, so I had to create one from scratch. My goal was to shoot and produce a short film featuring the storms of the Great Plains in as high a resolution as I could achieve, even if I had to develop the format. I wanted the resolution depth of 16K, and to present the sky on a big canvas."

Shooting required careful planning and execution. And, post-production was laborious to say the least, requiring 3-5 days to post and process a 10-second shot. But, the end result is sumptuous. The ability to zoom in and out is almost like employing an optical lens.

The short film he produced is titled, "Prairie Wind." You can watch it in up to 8K on Vimeo now

Currently, StormStock are working with clients who want to use their 16K content in multi-monitor display "walls." It looks quite nice in that exhibition medium. In addition there are 16K displays already available.

Martin Lisius is a producer, director, cinematographer and founder of Prairie Pictures' StormStock, the world leader in the production of innovative weather and climate footage since 1993. Want to see the image above in 16K resolution? Just contact Martin and he'll send you a copy free of charge.

Website: www.stormstock.com



Next >

---
STALKR Making Connections with Bumble
Production, licencing and search agency STALKR created an advertising campaign using widely-sourced footage for dating site Bumble.


NBC News Archives Features Kennedy v. Nixon
This year marks the 60th anniversary of the first televised presidential debate between John F. Kennedy and Richard Nixon, a TV landmark available from NBC News Archives.


RITY Nominated For Footage Library Of The Year
Reelin' In The Years Productions is nominated for the prestigious FOCAL International "Footage Library of the Year" award. The ceremony is going to be virtual this year, but it is still an honour for productions and libraries to be nominated.


DMLA's 2020 Conference Will Be All-Digital
The DMLA asked its members, and they answered definitively: Online is the only way to get together this year. More than 80% of respondents to their recent survey voted to go virtual with our Digital Media Licensing Conference.


New US Civil Rights Footage from GIW
Just in to Global ImageWorks is outstanding and unique 1960s footage featuring prominent Civil Rights leaders and counterculture movement personalities. This collection captures an important record of the spectrum of leftwing politics and personalities during the turbulent Sixties.


NFB 2K Footage of Hawaii
Air travel may be off the table for now, so if you're searching for spectacular, recent footage of the Hawaiian Islands, look no further! From drone shots of dense jungles and lava to underwater closeups of a sea turtle in its element, the Canadian National Archive's breathtaking 2K footage will make you feel like you're there.


Spaceship Earth – Fascinating Biosphere 2 Documentary
Biosphere 2 was a groundbreaking 1991 experiment to have eight humans live in an artificial environment in Arizona for two years. It went horribly wrong, and the footage exists to prove it.


Anniversary of Hawaii becoming USA's 50th State
After legally entering the Union as the 50th state in 1959, July 1960 marks the 60th Anniversary of Hawaii becoming the latest star added to Old Glory, bringing the flag to its current form today.


Dance with Huntley Film Archives
The nature of the business has changed and Huntley Film Archives have been approached by more production companies wanting to tell their whole story through archive. They will be producing a series of short compilations on a theme to entertain and inspire producers.


StormStock Image of the Month – Hurricane Irma
Hurricane Irma was an extremely powerful Cape Verde hurricane that caused widespread destruction along its path in September 2017. Extreme weather specialists StormStock were on hand to record its ferocity.


Seoul Wave – Excellent Travelogue of South Korea
Here is a lovely mini documentary set in Seoul, made by Brandon Li. It gives a good glimpse of the vibrant city, with a lot of different filming techniques.


IWM Collection Highlights
IWM is a leading authority on conflict and its impact, focusing on Britain, its former Empire and the Commonwealth, from the First World War to the present. Explore their collections.


V&A Images Now Licencing Video
The outstanding collection at the V&A has now added footage to its stills images offering. You can view the new motion compilation at its YouTube channel.


FOCAL International Announces Awards Shortlist and Host
The FOCAL International Awards competition is dedicated to the promotion and celebration of archival footage and its contribution to the creative and cultural industries. FOCAL is delighted to announce this year's shortlist in the Production and Restoration & Preservation categories.


Unique Footage of Vera Lynn from the IWM Collection
This unique footage of singer Vera Lynn was shot on 14 May 1944 near the Burmese border. It's mute, unedited, black and white footage shot on 35mm film that captures Vera Lynn not singing but chatting to soldiers. IWM Curator Fiona Kelly introduces us to this remarkable footage of the "Forces' Sweetheart".


Dame Vera Lynn Goes, the 'forces sweetheart' dies at 103
Huntley Film Archives would like to pay tribute to the wonderful Dame Vera Lynn, who has passed away at 103. Known for her singing talent and as the "Forces' Sweetheart" during the Second World War, they would also like to celebrate her charitable work.


Global ImageWorks Offers 10% Off
The New York-based collection is offering a discount off footage and photos for your next project. Now is the time to move forward on your next creative production.


Reelin' In The Years Launches New Searchable Website
Reelin' In The Years Productions, one of the world's leading footage licencing companies, has announced the launch of a new website dedicated to their growing collection of music-related photographs, photos and featuring a fully searchable database.


NBC News Archives Features Key US Civil Rights Footage
In 1965, US President Lyndon Johnson signed the Voting Rights Act, outlawing many of the discriminatory practices that had long obstructed African Americans' right to vote. NBC News Archives has a selection of footage of this key Civil Rights moment.