Historic Films Acquires The Roy Damm Concert Collection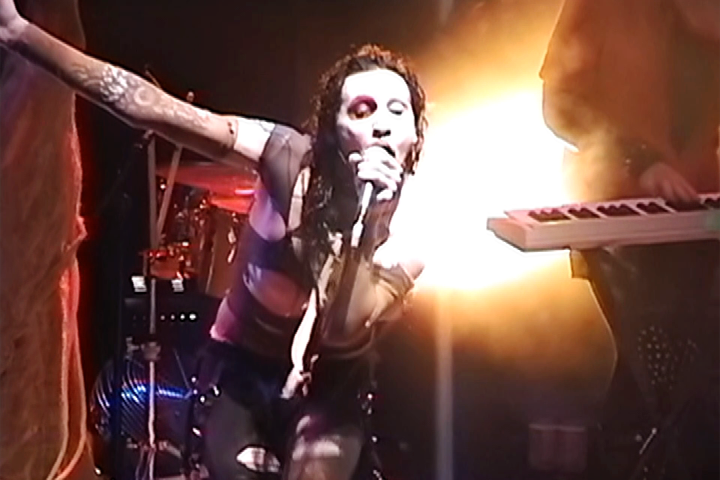 Roy Damm is an American underground filmmaker who has dedicated his life to the archiving and preservation of live concert recordings. Based out of San Diego, California he recorded his first concert, the Ramones, in 1992. Between 1992 - 2002 he recorded hundreds of historic music performances throughout North America and is considered by many to be one of the best stealth videographers in the world.

This collection represents over 100 top artists filmed live and in concert, often with multiple cameras, between 1992-2002. Some highlights include Aerosmith, Afghan Whigs, Beastie Boys, Nirvana (1993), Black Sabbath, Marilyn Manson (image above), Depeche Mode, Pearl Jam, Eminem, Kid Rock, Limp Bizkit, Prince and many others.

The library is currently being logged and incorporated into Historic Films searchable and viewable on-line database.

Website: www.historicfilms.com

Next >

---
NBC News Archive Documents Empty Cities
See a different city vista – now they are deserted and NBC News Archives has footage of these changed places.


Happy Birthday, Your Majesty!
Today is the Queen's 94th Birthday. It could have come in happier times, but British Pathé is celebrating it anyway. Her Majesty Queen Elizabeth II is the longest ruling monarch in British history.


New Feature on StockFootageOnline – Video Interviews
During this period of lockdown we are putting up video interviews with significant people in the industry to keep readers informed. The first is with award-winning film maker Alex Gibney – rated as "the most important documentarian of our time" by Esquire Magazine.


StormStock Features Lighting
The storm and severe weather specialist photo library has a superb collection of lightning available for your next video or film project.


Drone Footage Shows Dublin Eerily Silent
The capital of Ireland is usually buzzing with activity, and a major draw for tourists. Here new drone footage published by the Guardian shows an empty city with silent streets.


Global ImageWorks Offers 10% Off
The classic TV and film specialist library is offering a 10% discount for both film and stills projects.


Dive Into 4K Science!
Science Photo Library has a website section showing off their diverse and fast-growing collection of spectacular Ultra High Definition footage.


4K Vintage Hollywood from Global ImageWorks
Just transferred from carefully-preserved 16mm comes the historic specialist's new 4K vintage Hollywood and Los Angeles collection. This wonderful archive includes early movie premieres, film stars, and the glitz and glam of the early days of Hollywood.


Azerbaijan – A 3 Minute Travelogue
Azerbaijan is a country in the South Caucasus region of Eurasia at the crossroads of Eastern Europe and Central Asia. It has incredible vistas and this short film shows them off.


Timelapse Shows ExCeL Centre's Conversion Into Coronavirus Hospital
Timelapse footage published by The Guardian has captured the transformation of London's ExCeL centre into a temporary hospital to cope with an expected surge in coronavirus patients.


BBC Nostalgic Video of Belfast in 1970s
The BBC have shared nostalgic footage of what happened when a well-known TV and radio presenter visited Belfast for a highly unique shopping trip, in the midst of the Troubles in 1976.


Amazing New Storms on 8K from StormStock
StormStock cinematographer Martin Lisius captured some amazing storms recently on 8K video including some large "supercells." A supercell is a thunderstorm with a persistent rotating updraft.


Who are we?
Elizabeth Klinck, international image researcher, asked the question.


Wildscreen Festival Submission Deadline Extended
The renowned nature and wildlife film festival has extended its deadline for entries due to the current global health issue.


Beautiful Footage from Jutland - 'Breath of the Seasons'
Film-maker Jonas Høholt has created this beautiful short film using many techniques to highlight the tranquil beauty of the Danish peninsula throughout the four seasons.


Footage Update from Nature Picture Library
NaturePL's video contributors have been busy. Their latest video additions have a strong European focus – including clips from Norway, Heligoland and the Adriatic.


INA Looks Back to a Century of Global Pandemics
During these troubled times, INA has gathered a footage collection focused on global pandemics, going back as early as the Spanish flu of 1918. These clips will help with the background on the current crisis.


An Announcement from Huntley Film Archives
During this difficult time, Huntley Film Archives, specialists in old but classic footage from many eras, are still operating as normal.


creativeMarketplace USA joins DMLA / ACSIL conference on 28th October!
Owing to world events, creativeMarketplace USA has been rescheduled to 28th October, 2020.