Amazing New Storms on 8K from StormStock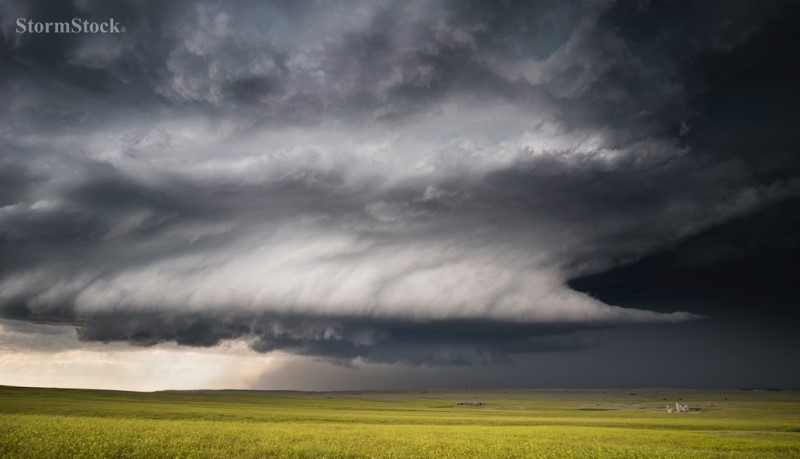 StormStock cinematographer Martin Lisius captured some amazing storms recently on 8K video including some large "supercells." A supercell is a thunderstorm with a persistent rotating updraft. They produce the world's largest tornadoes and hail, and prolific lightning. The entire storm spins counterclockwise (cyclonically) which makes for impressive visuals.

The StormStock team recently captured massive, severe storms like this one pictured above on 8K.

This content is available for licensing now, exclusively through StormStock.

See a portion of this footage in a short video Lisius produced titled, "Nunpa".

Download preview clips for this content now. Master clip delivery available on 8K, 4K and HD.

Other footage categories include hurricanes, tornadoes, and flooding. View footage from all categories here.

Website: www.stormstock.com

Next >

---
Who are we?
Elizabeth Klinck, international image researcher, asked the question.


Wildscreen Festival Submission Deadline Extended
The renowned nature and wildlife film festival has extended its deadline for entries due to the current global health issue.


Beautiful Footage from Jutland - 'Breath of the Seasons'
Film-maker Jonas Høholt has created this beautiful short film using many techniques to highlight the tranquil beauty of the Danish peninsula throughout the four seasons.


Footage Update from Nature Picture Library
NaturePL's video contributors have been busy. Their latest video additions have a strong European focus – including clips from Norway, Heligoland and the Adriatic.


INA Looks Back to a Century of Global Pandemics
During these troubled times, INA has gathered a footage collection focused on global pandemics, going back as early as the Spanish flu of 1918. These clips will help with the background on the current crisis.


An Announcement from Huntley Film Archives
During this difficult time, Huntley Film Archives, specialists in old but classic footage from many eras, are still operating as normal.


creativeMarketplace USA joins DMLA / ACSIL conference on 28th October!
Owing to world events, creativeMarketplace USA has been rescheduled to 28th October, 2020.


"Houston, we have a problem" 50 Years Since Apollo 13
On the way to the moon, the US space mission Apollo 13 suffered a drastic failure, necessitating a hasty return to Earth with desperate peril for the astronauts. NBC News Archives commemorates this event.


Scooters in Taiwan
The motor scooter is a way of life in Taiwan, an important method of transport for people, here is a creative little observational documentary using footage in an imaginative way, making it almost like a dance.


Global ImageWorks 10% Discount
The outstanding footage and photos specialist library is offering a discount on its content. GIW is renowned for its wide range of material including its newly-digitised panoramic colour footage.


StormStock Image of the Month – Lightning in 16K
Lightning from a supercell thunderstorm illuminates a lonely road in Kansas. You're looking at just the right half of the original image which intense weather specialist StormStock produced on 1:2.76 16K video.


Footage from the Headlines from CNN
Featuring extensive coverage of national and global affairs, the PBS Newshour collection is a treasure trove of USA's flagship programme PBS Newshour footage on topics ranging from politics and technology, to climate change, religion, and education.


Global ImageWorks Features Stunning New 4K Footage
GIW is continuously adding new 4K footage to their collection. Their 4K videographers have captured recent events such as the fire at Notre Dame in Paris, extreme weather, and police activity.


WPA Newsletter - Celebrating the Anniversary of the US Peace Corps
WPA Film Library celebrates the anniversary of the formation of the Peace Corps by President Kennedy during Peace Corps Week.


Exquisite Slo-Mo Footage of Crystals Developing
An exploration of tactile textures in nature by Onesal, a Japanese design studio for a project which uses natural shapes morphing and interacting with each other.


INA Blasts Off with Classic Apollo Footage
INA Media Pro is highlighting a precious collection on space conquest to celebrate the 50th anniversary of the Apollo 13 mission.


Video of Eerie City "Wuhan: The Long Night"
The outbreak of coronavirus in the Chinese city left a film crew stranded there. They created this short, moving video showing the empty streets.


New Footage Digitised of Battle For Iwo Jima in 1945
Seventy-five years after the capture of Iwo Jima island in the Pacific, memories of this pivotal World War 2 battle are largely limited to the famous flag-raising on Mount Suribachi.


Reelin' In The Years Now Represents Legendary Band The Doors Archive
Reelin' In The Years Productions (RITY), one of the world's largest archives of music footage has signed a deal with legendary rock band The Doors to represent their unique footage and photo archive for licencing.