"Houston, we have a problem" 50 Years Since Apollo 13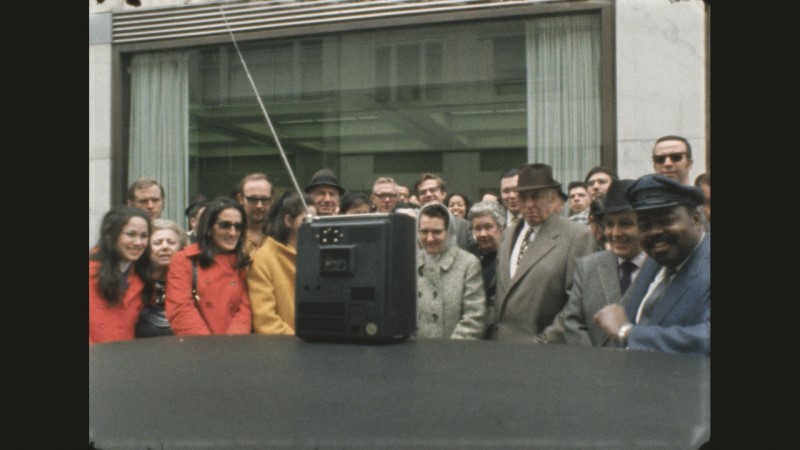 On the way to the moon, the US space mission Apollo 13 suffered a drastic failure, necessitating a hasty return to Earth with desperate peril for the astronauts. NBC News Archives commemorates this event.

This month, NBC News Archives is sharing footage related to the Apollo 13 voyage. April 11th marks the 50th anniversary of the lunar-bound launch. Two days into the trip, an oxygen tank exploded, causing the command module to lose electricity and astronauts Jim Lovell, Fred Haise, and Jack Swigert to change course completely. It was no longer a mission to the moon—it had become a fight for survival. Highlights from the collection include shots from pre-flight simulators, commentary from NASA officials, and HD film transfer footage of spectators watching the trio's triumphant return to Earth.

Image: people in the street watching the dramatic events unfold.

See the footage here

Website: www.nbcnewsarchivesxpress.com

Next >

---
Scooters in Taiwan
The motor scooter is a way of life in Taiwan, an important method of transport for people, here is a creative little observational documentary using footage in an imaginative way, making it almost like a dance.


Global ImageWorks 10% Discount
The outstanding footage and photos specialist library is offering a discount on its content. GIW is renowned for its wide range of material including its newly-digitised panoramic colour footage.


StormStock Image of the Month – Lightning in 16K
Lightning from a supercell thunderstorm illuminates a lonely road in Kansas. You're looking at just the right half of the original image which intense weather specialist StormStock produced on 1:2.76 16K video.


Footage from the Headlines from CNN
Featuring extensive coverage of national and global affairs, the PBS Newshour collection is a treasure trove of USA's flagship programme PBS Newshour footage on topics ranging from politics and technology, to climate change, religion, and education.


Global ImageWorks Features Stunning New 4K Footage
GIW is continuously adding new 4K footage to their collection. Their 4K videographers have captured recent events such as the fire at Notre Dame in Paris, extreme weather, and police activity.


WPA Newsletter - Celebrating the Anniversary of the US Peace Corps
WPA Film Library celebrates the anniversary of the formation of the Peace Corps by President Kennedy during Peace Corps Week.


Exquisite Slo-Mo Footage of Crystals Developing
An exploration of tactile textures in nature by Onesal, a Japanese design studio for a project which uses natural shapes morphing and interacting with each other.


INA Blasts Off with Classic Apollo Footage
INA Media Pro is highlighting a precious collection on space conquest to celebrate the 50th anniversary of the Apollo 13 mission.


Video of Eerie City "Wuhan: The Long Night"
The outbreak of coronavirus in the Chinese city left a film crew stranded there. They created this short, moving video showing the empty streets.


New Footage Digitised of Battle For Iwo Jima in 1945
Seventy-five years after the capture of Iwo Jima island in the Pacific, memories of this pivotal World War 2 battle are largely limited to the famous flag-raising on Mount Suribachi.


Reelin' In The Years Now Represents Legendary Band The Doors Archive
Reelin' In The Years Productions (RITY), one of the world's largest archives of music footage has signed a deal with legendary rock band The Doors to represent their unique footage and photo archive for licencing.


NBC News Archives Remembers Kent State Shootings
Footage of the controversial killing and wounding of unarmed anti-Vietnam war protestors is featured by NBC.


Bali 'Island of Gods' Outstanding Timelapse Footage
Martien Janssen of Travelimagez went to Bali to film this outstanding travel spectacular, showing the beauty of the famous destination. He describes himself as a "Nomad travel photographer and filmmaker, specialising in timelapse and drone."


Global ImageWorks has a New Punk Attitude
Loud, dark, and dangerous - Punk Rock burst onto the music scene with an aggressive sound and an in your face attitude. The two-minute anthem reigned supreme. Mohawks, piercings, ripped jeans, and black leather jackets were everywhere. Check out the scene with GIW.


NFB Presents China Through the Decades
From the Japanese occupation in WWII, to funeral rites in the 1950s, to the magnificent Yangtze Valley and the building of the world's largest hydroelectric dam in 2007—you can view China through the decades, online at NFB Archives. Discover their rich collection today!


Time-lapse footage shot from The Shard captures Storm Ciara battering London
The stunning video begins by showing the calm before the storm, with bright lights dominating the capital's iconic skyline as a camera mounted on the building captures the scene.


Dramatic Footage from Storm Chiara as Guest House Collapses
As Storm Ciara hit the UK, hurricane force winds and heavy rainfall brought the UK to a standstill over the weekend. Trains, flights and ferries were cancelled as weather warnings were issued urging people to stay indoors unless necessary.


WPA - In Memory of Kirk Douglas
WPA Film Library remembers the passing of Hollywood icon, Kirk Douglas. He is seen here interacting with fans during the promotion of one of his movies, "Posse". He will be remembered not only for his on screen roles, but also as an author and philanthropist.


creativeMarketplace USA New York 2020 - opens its registration desk
How do you maintain, improve and stimulate your research and buying power?